Welcome to the Naval Air Station Patuxent River
Online Hunting & Fishing Permit System
NOTICE: ISPORTSMAN WILL NOT BE ACTIVE FOR FISHING OR HUNTING PERMIT ISSUANCE OR HUNTER CHECK IN/OUT FROM 01 AUG 2017 UNTIL FURTHER NOTICE. Please contact Natural Resource at (301) 342-3670 for further information.
For specific information regarding hunting or fishing please visit those pages by clicking the "Hunting" or "Fishing" in the blue banner above. You should also read the "regulations" under the "Information" tab in the banner above. If you have any questions please click on "Information" and then "Contact Us". Thank you for visiting the NAS Pax River Hunting and Fishing website.
The Naval Air Station Patuxent River Complex includes the Patuxent River main site (NAS), Webster Field Annex (WFA), Solomon's Recreation Center (SRC), Bloodsworth Island Range (BIR) and a number of theodilite stations along the Chesapeake Bay. Hunting opportunities are available onboard NAS, WFA, and BIR only; fishing is permitted at NAS, WFA and SRC.
Naval Air Station Patuxent River main site is located in Patuxent River, Md., and stretches across roughly 8.5 miles of shoreline at the mouth of the Patuxent River and the northern Chesapeake Bay. It lies approximately 70 miles southeast of Washington D.C. and 75 miles south of Baltimore. NAS Patuxent River covers more than 6,700 acres of land with an additional 850 acres at the Webster Field Annex and 270 acres at Solomons Recreation Center.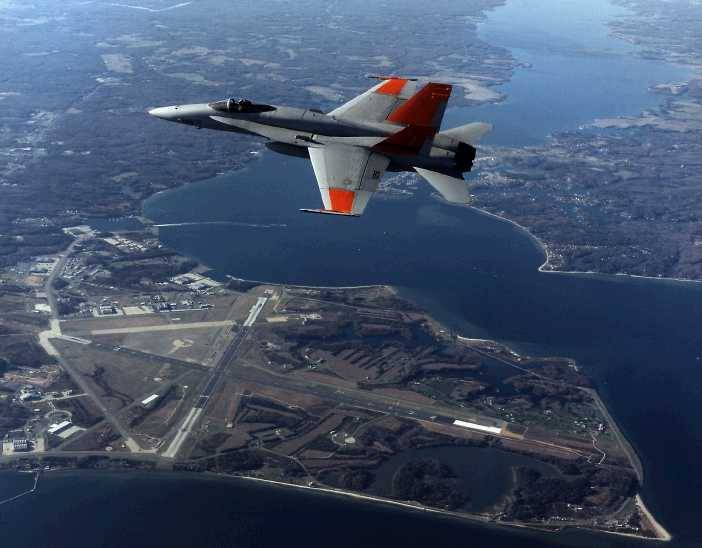 Specifically, NAS Patuxent River is located in the southern portion of St. Mary's County, Md., at latitude 38 17'N and longitude 76 25'W. St. Mary's County is the southern most part of Maryland's western shore and consists of a peninsula surrounded by tidal water on all but the northwestern boundary. NAS Patuxent River occupies a smaller peninsula and broad headland (known as Cedar Point) at the confluence of the Patuxent River and the Chesapeake Bay in the eastern portion of the county. This main site, which comprises approximately 6,705 acres, is bounded by the Patuxent River to the north, the Chesapeake Bay to the east and the town of Lexington Park, Md., to the south and west.
Webster Field Annex, also known as WFA, is located on the eastern shore of the St. Mary's River at latitude 38 08'N, longitude 76 25'W, in St. Mary's County, Md. It is 3 miles south of historic St. Mary's City, 8 miles south-southwest of NAS Patuxent River and approximately 75 miles southeast of Washington, D.C. St. Mary's River bounds WFA on the west with St. Inigoes Creek and Molls Cove forming the northern boundary. In addition, the property maintains a 116-acre perpetual navigational easement adjacent to the northeast corner of the property. Farms, forests and light residential development occur to the east and south.
Solomons Recreation Center (SRC) is located on the eastern shore of the Patuxent River in southern Calvert County, Md., at latitude 38 20'N, longitude 76 28'N. Situated near the convergence of the Patuxent River and the Chesapeake Bay, SRC is 3 miles north of NAS and 60 miles southeast of Washington, D.C. The town of Solomons lies east and south of the installation.
Much of NAS and WFA remains undeveloped and serves as home to numerous wildlife and fish (both freshwater and saltwater) species indigenous to the eastern Maryland region. As a result, there are a number of hunting, fishing and even trapping opportunities available on the NAS Patuxent River main site and WFA, as well as fishing at SRC. Permitting for all three facilities is covered on this Web site.
The primary mission of the base is to support naval aviation operations through research, development, testing and the evaluation of aircraft, aircraft components and related products and technologies. Just some of the facilities that serve the base and the U.S. Navy in general include a manned flight simulator, a large aircraft anechoic chamber, an air combat environment test and evaluation facility, the Capt. Steven A. Hazelrigg Flight Test Facility, an aircraft test and evaluation facility, the U.S. Naval Test Pilot School academic building and the Aviation Survival Training Center.

NAS was first commissioned in 1943 as Naval Air Station, Patuxent River, to centralize air testing facilities that were previously dispersed throughout other bases or locations. Today, the Naval Aviation Systems Team at Patuxent River includes the Naval Air Station, Webster Field Annex and the Naval Air Warfare Center Aircraft Division, as well as 50 other on-base operations.